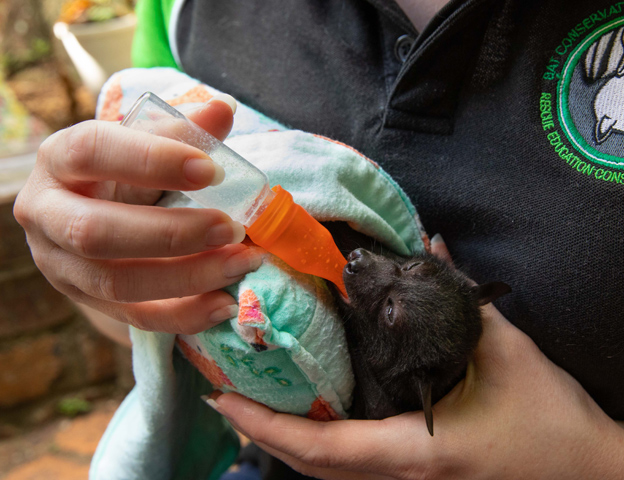 Bat Conservation & Rescue QLD Inc. (BCRQ) was formed in 2007 to address the increasing demand for bats requiring assistance and is a registered not-for-profit volunteer organisation whose aims are to:
Provide an efficient and humane service for rescuing, raising and rehabilitating injured and orphaned bats and, where possible, return them to the wild.
Help people understand the importance of bats by providing accurate information through literature, community events and talks to the general public about the importance of bats.
Help protect and conserve bat colonies and habitat.
Abide by the protocols as defined by the Department of Environment and Science (DES) in their "Code of Practice – Care of sick, injured or orphaned protected animals in Queensland" under the Nature Conservation Act 1992.
Bat Conservation & Rescue QLD Inc. operates a 24/7 Rescue Hotline for bat rescue advice and assistance. The Rescue Hotline services the Greater Brisbane Area and surrounding districts, taking in Brisbane, Ipswich, Logan, Redlands and Pine Rivers. The Rescue Hotline receives annually approximately 1500 to 2000 rescue inquiries from other animal welfare organisations, the community, industry, councils, schools and State Government agencies. See our Rescue page for some general tips on what to do if you find a bat by itself through the day.
The Rescue Hotline is staffed by local volunteers, who have been trained in bat rescue, care and rehabilitation. It is a DES requirement that all bat handlers be vaccinated against Australian Bat Lyssavirus (ABLV). All of BCRQ's volunteers have been appropriately vaccinated and trained to handle and rescue bats.
To find out more about us, you can download our Organisational Profile