Electrocution on overhead powerlines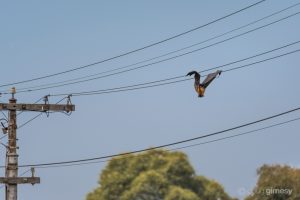 Overhead powerlines have a significant impact on flying-foxes and sadly a bat does not have to touch the wire to get electrocuted. There are also a significant number of victims who fly to close too the wire who are electrocuted by an arc. Each year BCRQ attends hundreds of electrocutions, either on the wire or below after the bat has fallen.
Please be aware that a lone bat on powerlines is most likely dead but, sadly this is not always the case as some survive the electrocution. Please call BCRQ should you see a bat on powerlines.
Important: During birthing months, (most commonly October to March for Black & Grey-headed flying-foxes and May to August for the Little Red flying-foxes but possibly any time of year) up to 90% of dead mothers may have a live baby tucked up under her wing. For this reason, please call any bat you see on powerlines into BCRQ and one of our members will attend to check for a live baby.