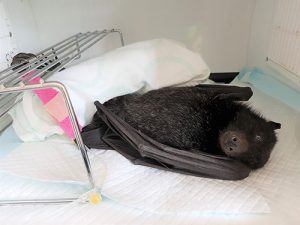 Flying-foxes have very few natural predators with pythons, birds of prey and crocodiles in Far North Qld being their main predators in the wild. The introduction of invasive species such as domestic and feral dogs and cats has introduced new predators that kill large numbers of bats each year.
BCRQ rescues many dog and cat attacked bats each year which sadly come off second best. Too often the injuries are so severe that the bat is relieved of its suffering by being euthanized. For dogs and cats, it is a natural instinct to hunt and to ensure the safety of the bats and your pets it is best for all if people eliminate the possibility of their pets coming into contact with wildlife.
The following are suggestions to reduce the possibility of pets coming into contact with bats.
Keep cats inside. Cats are very adaptable animals and will take to the indoor lifestyle. This has the added bonus of protecting your cat from cars, snakes, ticks and feral cats with disease.
Install cat runs or outside enclosures.
Keep dogs inside at night or in an area away from flowering and fruiting trees and shrubs.
Take your inside dog out on a lead to toilet at night.
Keep trees well-trimmed and overhanging branches out of reach of dogs.
Be aware if you have flowering or fruiting trees in your backyard and the potential risk to bats.
If your pet does attack a bat please put a weighted box or washing basket over the bat and call BCRQ immediately.